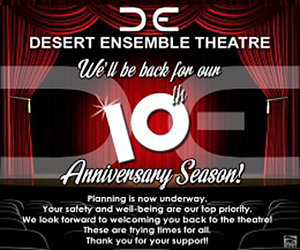 We are planning for our 10th Anniversary Season, which will get underway as soon as a green light is given from State and County health officials.
Please stay tuned for our season announcement later this year.
FREEDOM - A livestream Monologue Slam
From Director Desireé Clarke, the second installment in DETC's Monologue Slam Series.
Actors from across the nation come together in celebration of FREEDOM.
Season ticket sales will cover less than half of our operating costs. We keep ticket prices low so that the greatest number of people can afford to see great theater. Please consider donating to DETC to make this our best season yet. Look for the DONATE button just to the right, above the season calendar.
For more information, call (760) 565-2476 or email DETCTheatre@gmail.com
DETC is a 501(c)(3) nonprofit organization.